An overview of the services offered
Diesel Engines
MRE'S ' experience in the marine & offshore industries and highly skilled professional technicians & engineers, ensure maximum quality works at minimal vessel downtime, 24/7 worldwide.  Whether services demand In-situ diesel engine & engine parts repair and machining or workshop repairs in our state of the art facilities in Perama, MRE covers all major makes of main and auxiliary engines.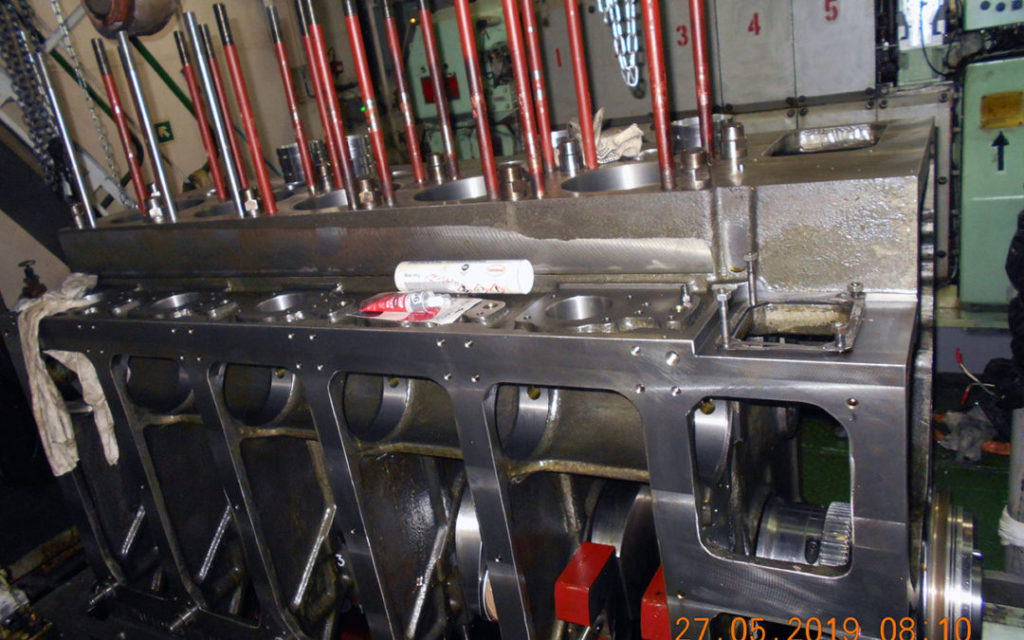 Our range of services includes:
Engines: Total overhaul, repairs, performance control
Cylinder Head: total maintenance,valve seat machining
Cylinder Liner: honing, roughness and dimension report, machining of sealing surfaces
Piston: machining of grooves and sealing surfaces
Connecting rod: ovalness report, machining, surfaces & serration grinding
Crankshaft: straightness test (also on lathe till 6.5mtrs), hardness test, metalloscopic test, deflections report
Engine block: line-boring of support, grinding of sealing surfaces
Pumps: Total overhaul, components particular
Coolers: cleaning, re-tubing
Gearbox: Total overhaul, shaft machining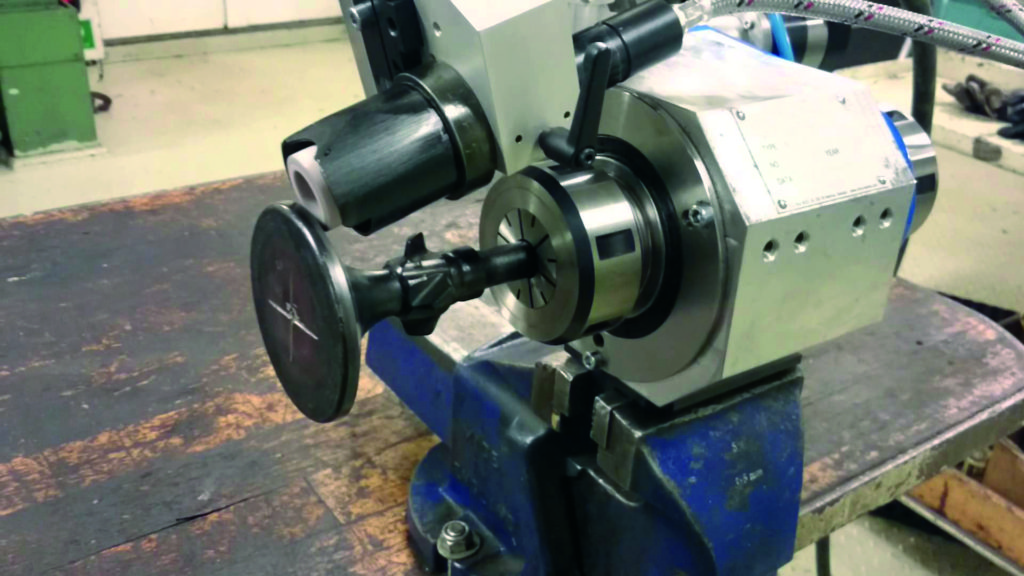 Fully Automatic Honing
MRE provides fully automatic honing, ensuring perfect precision
machining of cylinder liners with diameters of 200 mm up to 1050 mm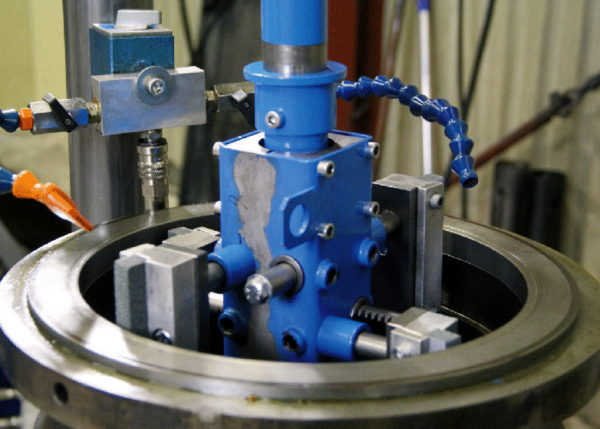 The advantages of honing are
Deglazing increases service life of liners, pistons, and piston rings
Rectifies the ovality, removes the micro-seizure and scuffing marks and restores surface cross pattern
Brings back lube oil consumption to normal levels and obtains a well oiled surface
New wear-in time is considerably reduced
Powerful grinding, wavecut & wear edge removal, milling.
Fully automatic, precise & time saving liner measuring to verify cylinder wear and deformation.
In-situ grinding machines, portable and ideally suited for use on-board ships or in engine installation sites
In-situ Crankshaft grinding machine offers an ideal solution for repair of a damaged crankpin or main journal of a diesel engine without dismantling the crankshaft or other major components of the engine. The machine is portable and is ideally suited for use onboard ships or in engine installation sites or even in processing plants where boring is required to be done In-Situ. The line boring machine has been put to test at actual operation in several occasions and it has been proved time and again that boring to a close dimensional tolerance is easily achieved with this machine.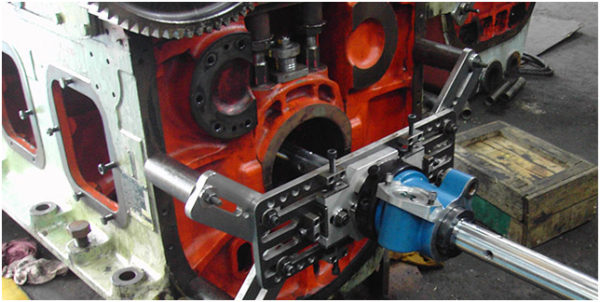 On-board Repairs
Experienced & Professional workers
This service is available round the clock anywhere across the globe at short notice. Our "flying squad" team of well experienced workers, is fully equipped with all the necessary tools and consumables, is capable of undertaking works worldwide, working in a 24 hour basis and offering quality services as per Class recommendations. We provide full range of ship repair and engine overhaul services to all types and sizes of ships.
• On Voyage Repairs
• Alongside /Safe Berth Repairs
• Anchorage Repairs
• Complete or partial Engine Overhaul
• Routine maintenance & repair of engines
• Technical Consulting Services








Repair type Metalock
Repairing broken, cracked or otherwise damaged cast parts always represents a great challenge as cast iron can only be welded to a limited extent.
MRE uses a special Metalock procedure as a viable alternative to welding that today is the preferred method in industry and marine shipping.
This procedure enables Metalock to specialise in the cold repair of damaged industrial components made from cast iron, steel and aluminium.
The Metalock procedure offers many advantages and is a cold process that eliminates thermal stress and resultant component distortion
Is an on-site repair that dispenses with the need for disassembly and off-site transport minimizes the downtime of valuable equipment is recognized by classification societies and eliminates the need to purchase new, expensive cast-iron parts.
Trusted Partners
MRE is trusted by the majority of Greek shipping companies.